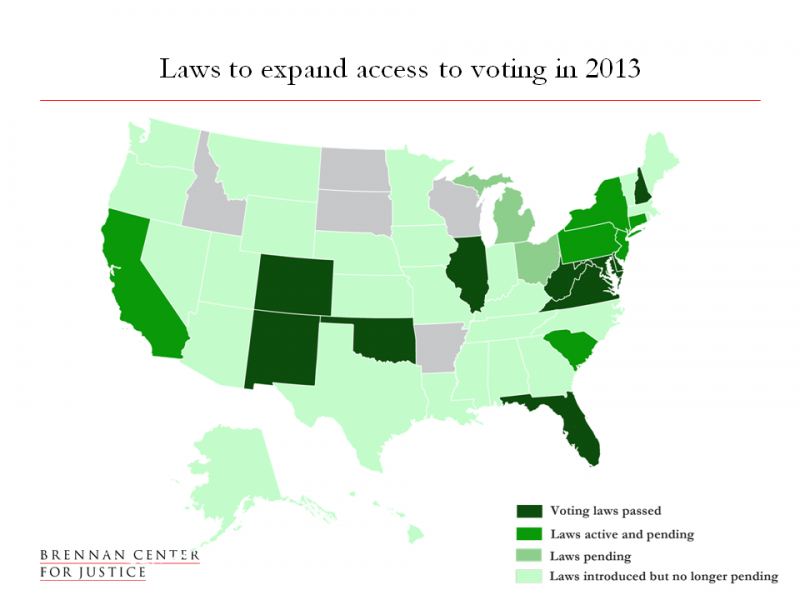 See an enlarged map at: http://www.brennancenter.org/sites/default/files/analysis/images/2013_expansive_map.png
The Brennan Center has been tracking and analyzing the efforts of states to increase registration opportunities, expand early voting, and modernize election systems.
They reviewed the nearly 200 bills to expand voting access that were introduced in 45 states in 2013. Most have failed while a few have passed–like those in New Mexico to automate voter registration at DMV offices, in Oklahoma to make existing photo ID laws less restrictive, and in Virginia to allow online voter registration. 
41 bills in 21 states are currently active, meaning there has been some form of activity, such as a hearing or vote, including:
Colorado: Last week the state House passed the Voter Access and Modernized Elections Act, which would allow Election Day registration, create portable registration, and establish a modernized elections commission. 
Nevada: A legislative committee passed SB 375, which would digitize voter registration at state agencies, expand online registration, and permit pre-registration by 16 and 17-year-olds. 
Florida: The state House voted 118-1 to reinstate the early voting days that had been eliminated before the 2012 election. The bill is currently under consideration in the Senate. 
Perhaps most importantly, the Brennan Center notes that many of these bills are drawing bipartisan support: In Colorado, Democrats in the legislature worked with the mostly-Republican Colorado County Clerks Association to draft a modernization bill; Republicans introduced an online registration bill in Pennsylvania and passed it in Virginia, and; New Mexico's new law received broad bipartisan support and was signed by a Republican governor.
Through these and other election reforms we can help ensure that all eligible Americans can register and cast a ballot. Learn more about expanding access to voting in our next webinar on Voter Registration Modernization on May 16th.